Went to wash the car this morning and when I opened the hood to wipe around the engine bay I noticed a fuel smell and a faint hissing sound. Looking along the passenger side bank of the engine I saw what appeared to be oil residue but soon realized it was fuel.
The hissing sound was coming from the passenger side High Pressure Fuel Pump and I could see a small puddle of fuel bubbling in a small hole where the sound was coming from. Not sure if this is a case where something needs to be tightened (I had a carbon clean and intake spacers installed a couple of months ago) or if more likely the HPFP needs replacing.
Here is a video of the hissing noise where you can also see the little bit of fuel bubbling: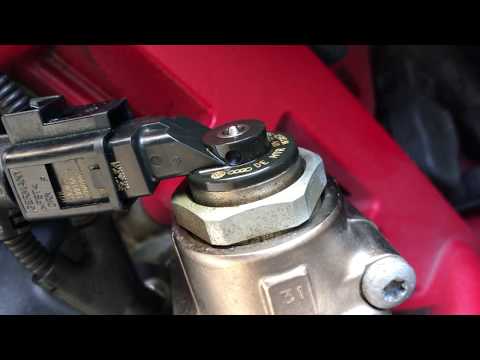 And some pics of each side of the engine to show the extent of where it had been leaking...
Passenger side where the leak is:
Drivers side for comparison:
Both sides in view:
I'm going to take the car into TuneDub first thing tomorrow morning to see if I can get it fixed, but is it even safe to be driving it in the meantime / at all? I can't imagine with the heat the engine generates + the hot weather that having a fine mist of fuel leaking out under the hood is good. Should I be arranging for a flat bed to take the car to shop tomorrow?