RIVIAN RT1: THE SUPER FAST, SUPER CAPABLE ELECTRIC PICKUP OF THE FUTURE?
At this point it's hard to deny the impending electric car revolution both in the United States and around the world. There are more EVs for sale than ever, and even more coming from both new and familiar brands in the coming years. However, along with charging infrastructure, one of the things that has limited the appeal of EVs is the lack of body styles. At the moment nearly all EVs available are either compact cars, luxury sedans or luxury crossovers.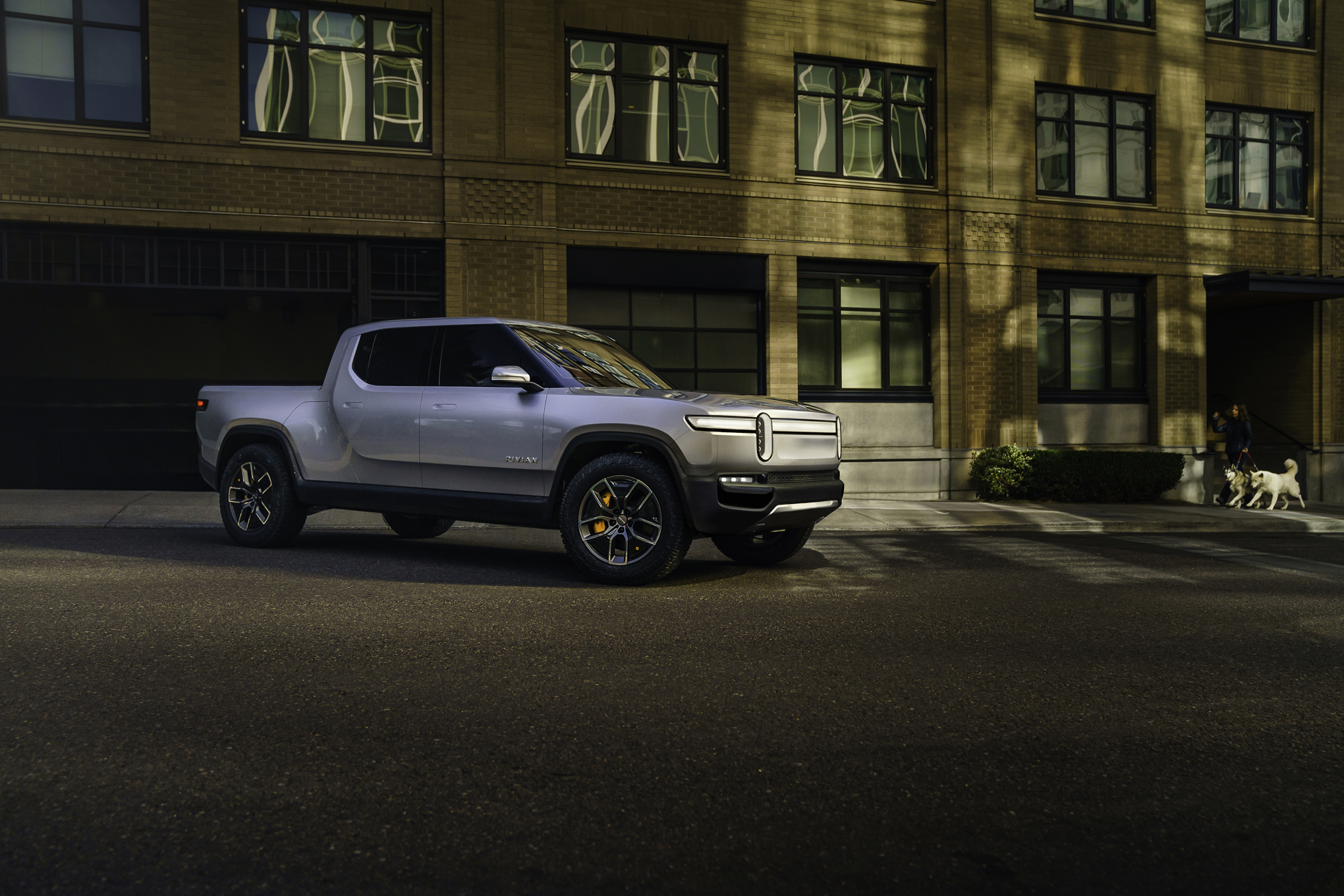 One company that's looking to kickstart the EV truck movement is Rivian, an American start up that has just unveiled its ambitious RT1 pickup ahead of the LA Auto Show.
Built atop a common "Skateboard" platform, Rivian has introduced its R1T pickup and R1S SUV as a reimagination of their respective segments, says company founder and CEO R.J. Scaringe.
"I started Rivian to deliver products that the world didn't already have… Starting with a clean sheet, we have spent years developing the technology to deliver the ideal vehicle for active customers," Scaringe says. "This means having great driving dynamics on any surface on- or off-road, providing cargo solutions to easily store any type of gear, whether it's a surfboard or a fishing rod and, very importantly, being capable of driving long distances on a single charge," he continued.
The foundation of the R1T and R1S is Rivian's skateboard platform, which packages the battery pack, drive units, suspension, braking and thermal system all below the height of the wheels leaving the space above for occupants and their gear while providing a low center of gravity.
Rivian's vehicles also feature a quad-motor system that produces 197 horsepower per wheel or 788 horses total with precise torque control to each wheel, enabling active torque vectoring designed to maximise performance from high-speed cornering to low-speed rock crawling. With 2,581 lb.-ft. of grounded torque per wheel (10,324 foot pounds for the entire truck), the R1T can reach 60 mph in 3 seconds and 100 mph in less than 7 seconds. The powertrain and chassis work together to enable the R1T's tow rating of 11,000 pounds. Being a vehicle designed for the outdoors, the Rivian R1T also has the capability to wade through up to 1 meter of water.
There's also a lot of storage in the R1T, with a frunk that offers 11.7 cubic feet (330 liters) and a "gear tunnel" — a storage area that spans the width of the vehicle, — that provides an additional 12.4 cubic feet (350 liters) of space, making it ideal for hauling long pieces of lumber, or skis. The all-electric pickup's bed is also fitted with three 110-volt outlets with more than 400 watts available at each, as well as a compressed air source for filling in bike tires.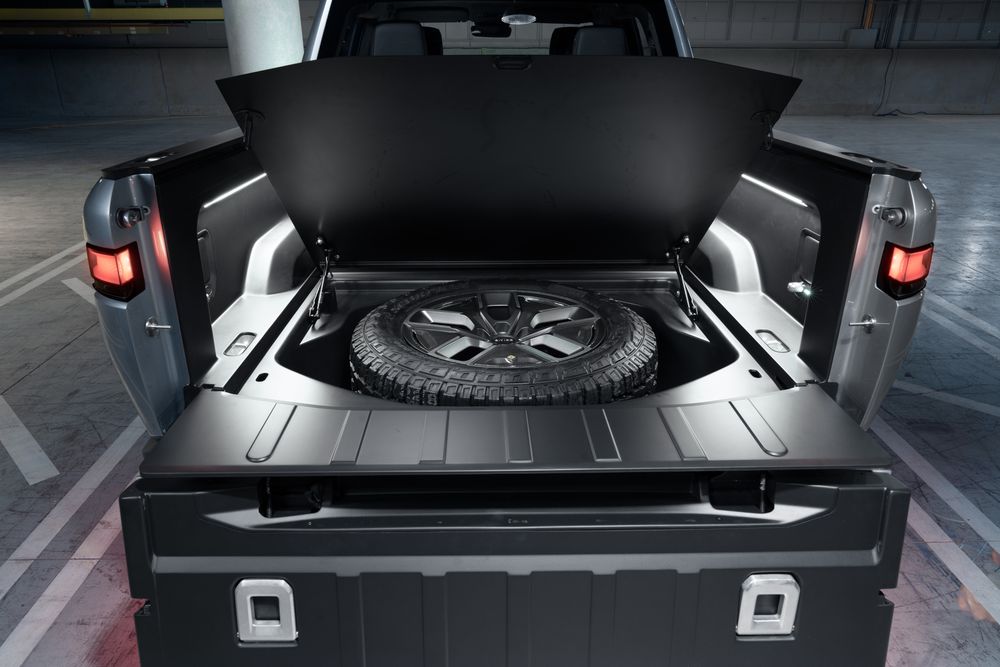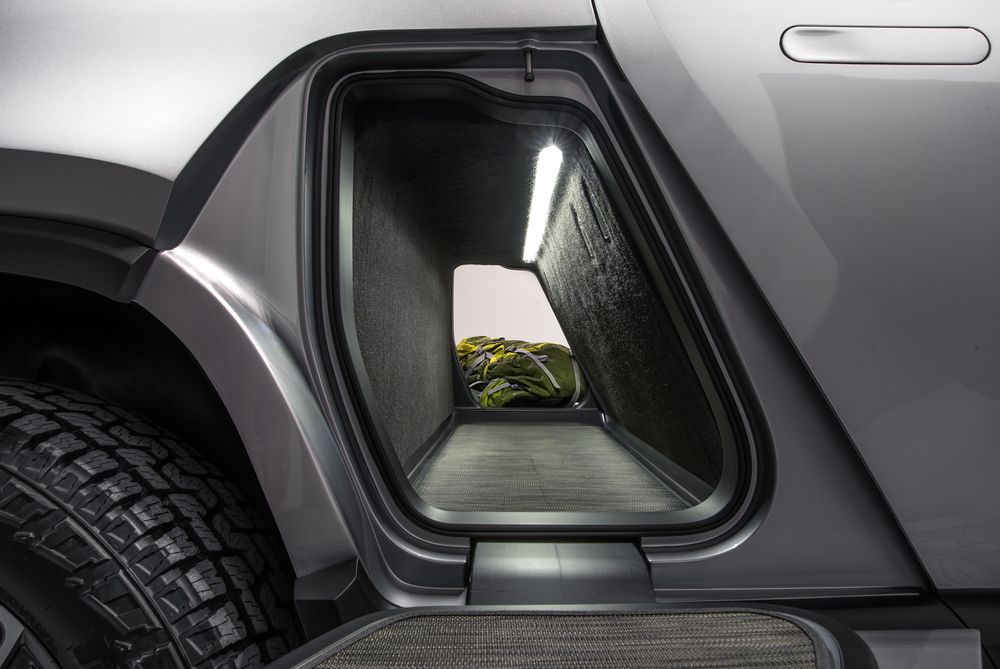 Three battery pack variants will be offered for the vehicle — a 180 kWh battery that is expected to give 400+ miles of range per charge, a 135 kWh option that gives 300+ miles of range per charge, and a 105 kWh variant, which will give about 230+ miles of range per charge. Rivian plans to start manufacturing the R1T's higher-end options first, followed by the entry-level version, which starts at $69,000 within 12 months from the start of production. Production for the R1T is expected to begin in 2020.
"We were quiet in stealth mode to avoid getting caught in this sort of hype cycle, and we said let's make sure we have all the pieces lined up — the vehicle, the technology, the team, the supply chain, the manufacturing plant — before we actually talk about it. Because of that, some people have been questioning [us]. People need to see that this is very, very real," Scaringe said.
Interested buyers can now place a refundable deposit of $1,000 for the Rivian R1T